CSF is excited to announce the release of its new BMW E30 oil cooler (also can fit vehicles with M20 engine swaps). CSF's new technology & featured packed E30 oil cooler is a perfect solution for the growing BMW restoration market. The E30 has become a great platform for engine swaps of all kinds, from S54 BMW motors dropped into the engine bay, all the way to LS engine swaps, everything has been popping up on the scene lately, and CSF is here to keep you cool!
Developed along with leading BMW restoration R&D partner CA Tuned, CSF has been able to incorporate many features into its drop-in fit E30 oil cooler. This makes the new CSF E30 oil cooler not just an option for customers looking for a high-quality OEM replacement for the 25+ year oil cooler, but a performance and fitment upgrade as well. One of the most innovative features of this new m20 engine oil cooler is the included fitment kit allowing users to run -10 AN lines instead of the older OEM style rubber & hardline bent hoses which can be corroded, hard to source, and expensive to purchase.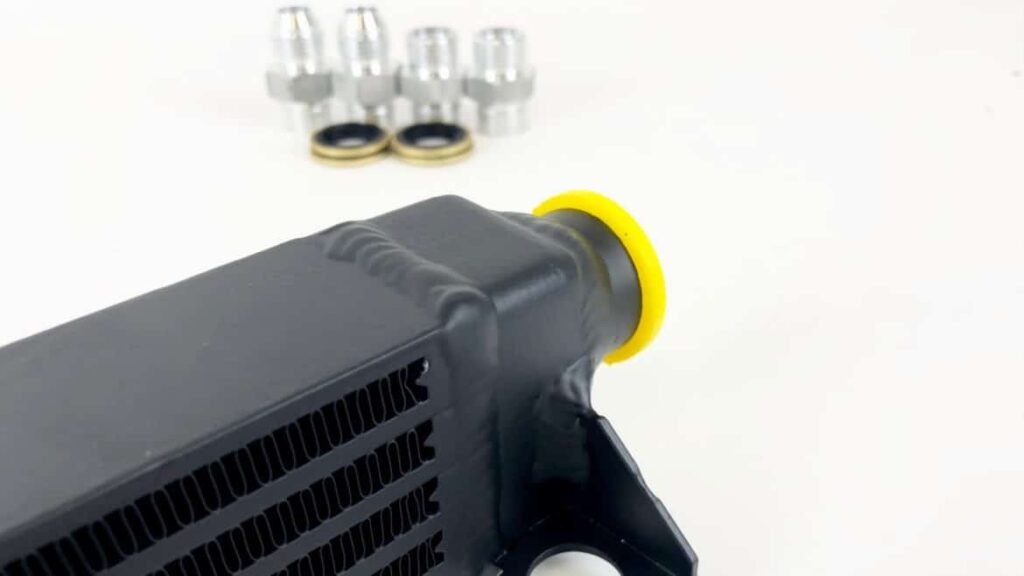 Leave behind the Three Decade-old OEM Oil Cooler
These old oil coolers may have worked great in the 80's and 90's, but its time that they get laid to rest. Beaten, abused, bent, clogged, the variables are endless with so much time behind them.
CSF's reinvented oil cooler is built to last. Rugged bar/plate design, increased cooling capacity, variable inlet/outlet fittings, along with better dynamic fluid properties. The CSF oil cooler provides the durability, quality, and efficiency these old German "steeds" deserve.
CSF BMW E30 Oil Cooler
Direct fit oil cooler for BMW E30
Also can fit other M20 engine swap set-ups
Comes complete with fitting kit for both OEM style as well as -10 AN male connections
High-performance bar/plate design for maximum durability and performance
Cast end tank design
Matte black finish
Part Number: CSF #8092
OEM Part #: 17211719179
Pricing: MSRP / MAP $339.00 USD
Fitment: BMW
1988-1991 BMW E30 325i
1988-1991 BMW E30 325is
1988-1991 BMW E30 325iX
1988-1989 E24 M6
Bracket Kit: Bimmerworld Part # 100.17.530.0009
CSF #8092 Fitment with Bracket Kit
1987 BMW E30 325is
1985-1988 BMW E30 325e
1985-1988 BMW E30 325es
1985-1987 BMW E30 325i
1985-1987 BMW E30 325iX
1986-1990 BMW E30 M3
Purchase the new CSF E30 oil cooler from one of our leading BMW specialty dealers, including R&D partner: