( CSF #8217 )
In 2021, CSF teamed up with the Formula-1 Cooling system manufacturer and high-performance aftermarket partner PWR to release the world's first high-performance intercooler system for the Porsche 992 Turbo and Turbo S. With over 200 systems sold for the 922 Turbo (CSF #8188), CSF is now proud to release a high-performance intercooler for the Porsche 992 Carrera for all 3.0L Turbo models. This includes the Carrera Base, S, 4, 4S, and GTS (Coupe, Cabriolet, and Targa).
Prior to the 991.2 Porsche 911, non-turbo owners had very few options for big performance gains. With the implementation of the 3.0L Turbo motor for all trim levels outside of the Turbo, GT2, and GT3 though, Porsche unlocked a whole new performance market. CSF's R&D partner and Porsche tuning specialist M-Engineering have already developed tunes for these motors increasing power by as much as 146 whp with just "Stage 1" on the Carrera S. Just like its big brother (the 911 Turbo), the Carrera is already prone to power loss due to intercooler heat soak. The OEM location of the intercooler doesn't help these issues either as it is positioned right above the engine and all the radiant heat coming from it. Adding power just exacerbates the problem. The solution to the poor location and intense heat soak is simple, a high-performance intercooler from CSF.
CSF developed and designed the 992 Carrera intercooler to address the primary issues with the OE unit while providing enough cooling capacity and durability to cope with higher levels of boost.
Design & Engineering
CSF designed and engineered the 992 Carrera intercooler to be a true Plug-and-Play "Drop-in Fit" unit. Utilizing all factory mounting points, the installation is straightforward and requires no cutting or modifications.
OEM VS CSF by PWR
Feature
OEM
CSF by PWR
# Of Tubes
12
26
Tube Height
9.3mm
3mm ROLLED TUBE
Fine Height
7.3mm
4.85mm
Weight
11.5 lbs
17 lbs
Design
Crimped w/ Gasket
Plastic End Tanks
100% TIG Welded
CNC Billet End Tanks
PWR Intercooler Core Technology
The most important feature of the CSF by PWR 992 Carrera Intercooler System is the Formula-1 grade intercooler core. CSF's strategic relationship with PWR has allowed the inclusion of this core, which is unlike any other available in the performance aftermarket.
The intercooler uses the same cores as systems previously developed for the Porsche 992 Turbo/S and 991 GT2RS with incredible results. The PWR cores eliminate heat soak and lower Intake Air Temperatures (IATs) much more efficiently than traditional Bar & Plate or Tube & Fin designs. These traditional intercooler cores are typically much heavier and/or larger to improve cooling capacity. Because the PWR core is able to achieve greater performance results in a smaller size, CSF was able to design the intercooler system to fit in the stock location using all the OEM hardware, ducts, and shrouds for an easy drop if fit installation.
Like most turbocharged vehicles, the 3.0L Twin Turbo motor powering the 992 experiences high levels of heat soak and progressively increasing IATs even in modestly spirited driving conditions. This results in the ECU pulling engine timing and drastically decreasing power output. The CSF by PWR Intercoolers solve this issue and allow vehicles to perform at optimal levels consistently and for prolonged periods of time.
Stock vs CSF by PWR
*Results from our similar 992 Turbo System
Dyno Testing at Autowerks Asia – Bangkok, Thailand
Autowerks Asia is one of Thailand's biggest tuners and are responsible for some of the wildest builds in Southeast Asia right now. This "Stage 2" 992 Carrera S was already equipped with an Akrapovič titanium exhaust system, IPD intake plenum, BMC air filters, and software tuning. Putting down around 550HP and 700Nm (516 ft-lbs), this was a great candidate for testing the CSF Intercooler System.
Autowerks uses a SuperFlow Dynamometer, which is an incredibly sophisticated chassis dyno that ensures proper data is gathered in real-time. Baseline pulls were taken at 82°F (28°C) producing a healthy 550whp and 710Nm (524 ft-lbs). After installation of the intercooler, Autowerks strapped the 992 back onto the dyno with ambient temperatures in the room of 84°F (29°C).
The new peak power numbers were 560whp & 741Nm (547 ft-lbs), but the biggest gains were really seen in the mid-range from 3500-4000rpm. On average you can see a gain of 44.5Nm (32.8 ft-lbs) and 26.7whp gains here with a peak gain of ~55Nm (40.5 ft-lbs) and 32whp. These gains aren't even the biggest benefit though. What is truly remarkable about the CSF by PWR systems is their ability to recover and fight off heat-soak. The ability to maintain consistent power (and temperatures) run after run is more important than power gains in any motorsport setting.
Read more about the Autowerks Asia 992 Carrera S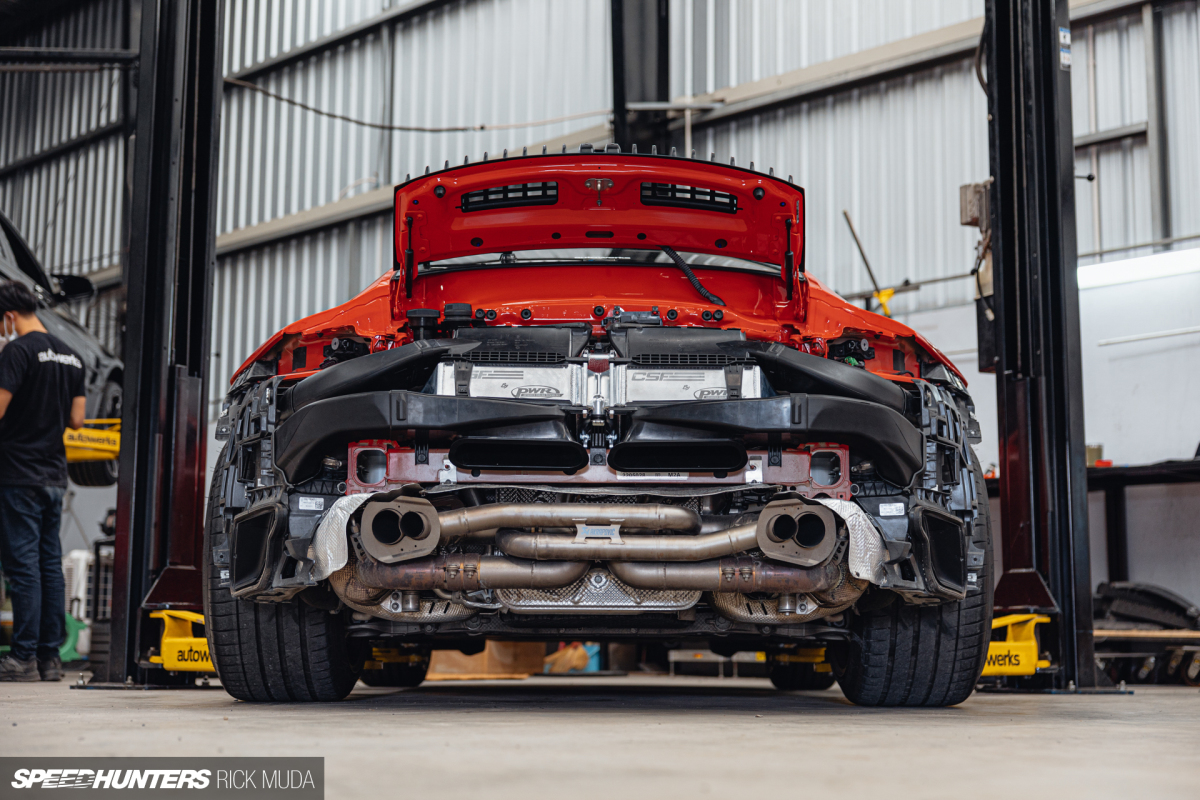 Cooled Running: Pushing The Porsche 992's Limits With CSF & Autowerks
By Rick Muda
It's easy to take for granted just how much development goes into 'proper' modification.
But that's also a testament to doing a job properly. As a tuner, you're supposed to do the hard work so the lucky customer can reap the benefits after. And in the case of Porsche 992 tuning, that means extra power. Lots of extra power.
Continue Reading on Speedhunters…
CNC Machined Billet End Tanks
As with CSF's other products produced through our PWR partnership, the new 992 Intercoolers feature 100% TIG-welded machined billet aluminum end tanks. This is a very significant upgrade compared to the OEM crimped plastic composite end tanks.
In addition to being aesthetically pleasing, the increased strength improves longevity and durability on high-performance vehicles. OEM plastic/composite end tanks have been known to crack under heavy boost pressure. The CNC machined billet end tanks are ready to withstand increased boost pressures from bolt-on modifications, higher performance tunes, as well as upgraded turbochargers.
Flat 6 Motorsports in Sanford Florida specializes in Porsche tuning and racing. John Swift (owner) recently picked up a 992 Base Carrera and decided to see how fast he could make it. The build will eventually feature fully upgraded turbos and methanol injection. However, Flat 6 wanted to get some of the supporting upgrades in preparation. They selected the CSF by PWR Intercooler System as they wanted the best possible system for their build.
During installation, Flat 6 took the opportunity to do some comparisons to the factory intercooler. They performed back to back 1/4 mile runs as well as back to back 60-130 mph pulls. First with the factory intercooler followed shortly by the CSF intercooler.
The results show just how efficient the CSF by PWR Intercooler system is compared to the factory unit. Especially on the 60-130 mph pulls.
Installation Galleries
Carrera s – Install & Dyno Testing at Autowerks Asia
Product Images
CSF High-Performance Intercooler System Features ( CSF #8217 )
Eliminates Heat Soak and Lower Intake Air Temperatures (IAT) for Maximum Performance in High-Performance and Race Conditions – Especially Critical Due to Intercooler Placement in Engine Compartment
Formula-1 Performance Grade Cores by PWR (2-Row Cores features Rolled Tubes w/ Inner Fins)
CNC Machined Billet End Tanks
Highly Engineered, Lightweight Design – Weighing Only 17 lbs.
100% TIG Welded vs OEM Crimped Plastic End Tanks for Maximum Strength & Durability
Made in the USA at PWR North America
OEM Style Inlet/Outlet Connections for Precise Fitment With All OEM Components
True Plug-and-Play "Drop-in Fit" Installation Requires Absolutely No Modifications
R&D and Performance Testing by Industry-Leading Porsche Tuning Companies – M-Engineering & World Motorsports
Applications:

2019+ Porsche 911 Carrera (3.0L Turbo – Base / S / 4 / 4S / GTS)
OEM Part Numbers:

Porsche: 992 145 805 D
Porsche: 992 145 805 F
MSRP: $4,299.00 / MAP: $3,995.00
Where to Buy
Please contact an authorized CSF dealer or distributor to order.
CSF's R&D Partner and Preferred Dealer
M-Engineering Power Packages
M-Engineering offers multiple Power Packages for the Porsche 992 Carrera (Base / S / GTS). Take your 911 to the next level of performance, with tuning from M-Engineering and cooling from CSF.
Product Sales Flyer